Families
All Inclusive Fun for Everyone - From Tots to Teens
Sugar Bay Barbados is a resort for all ages. Everyone is welcome with those under 3 years staying free along with the first child aged 4 to 16!
While you're taking in some much needed R & R, our Crèche and Kids Club offer a warm and welcoming environment for the kids, with careful supervision by our experienced nannies and coordinators.
The Creche is available for babies and toddlers ages 4 months - 3 years and open daily from 9:00 am – 7:30 pm (closed from 5:00 pm – 6:00 pm). Our Kids Club is for ages 4 - 12 years, and open Monday to Friday 9:30 am – 7:30 pm (closed from 5:00 pm – 6:00 pm). Here chilrdren enjoy a mix of indoor activities as well as outdoor fun in our playpark with jungle gym, swings and trampoline. Requests can be made for late closure of the Creche and Kids Club up to 9:00 pm - 12 hours notice required.
Babysitting services are also available and can be booked with the Front Desk (12 hours notice required). The fee is US$20 per hour for one child, US$25 for two and US$30 for three children. After 10:00 pm, the cost of transportation home for the sitter will be added.
Teens are free to holiday their way in our Teen Clubhouse, which will take care of all of their tech and gaming needs. They can also visit the games room or hit the beach for snorkelling, paddleboarding, kayaking and more!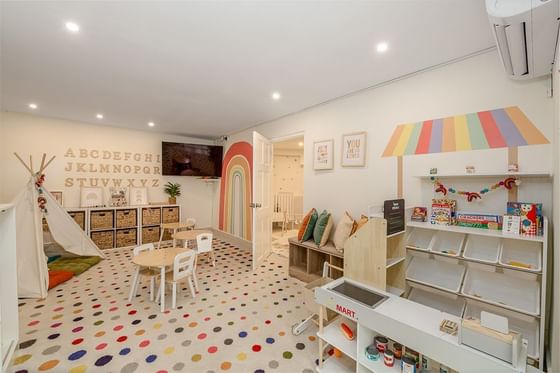 Creche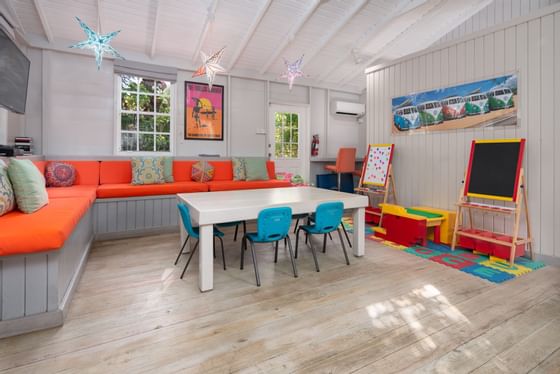 Kids Club